Compendium of Chemical Terminology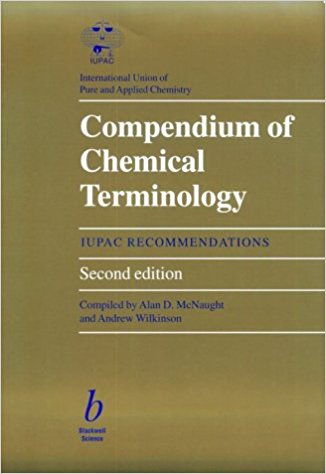 Welcome to the interactive version of IUPAC Compendium of Chemical Terminology, informally known as the "Gold Book". On these pages you will find a new browsable, interactive version of this publication.
You may start:
by browsing the alphabetical index (left),
by using one of the many thematic indexes (left),
or by using the search in the navigation bar.
To learn more about the Gold Book and this interactive version see the about page (Updated 7/1/17).
Expanded Search!
Search using terms, synonyms, acronyms, and abbreviations
New Download Formats!
Download the terms in JSON and XML formats (as well as PDF and Plain views)
Submit a Feature
Got a great idea for a new feature, capability, or improvements we can add to this site. Submit your idea to:
schalk@unf.edu